Overview
MISSION

To Improve the Health of People
with High-quality Medical Services

VISION

To Become a World-class
Medical Center

CORE VALUES

To Seek Truth with Prudence
To Be Practical-minded
The First Affiliated Hospital, Zhejiang University School of Medicine (FAHZU)
Founded in 1947, The First Affiliated Hospital, Zhejiang University School of Medicine (FAHZU), is the earliest affiliated hospital of Zhejiang University. It has now evolved into a national-level hospital integrating health care, medical education, scientific research and preventative care. It is also one of the first National Medical Centers and National-level Regional Medical Centers co-built by the National Health Commission and provincial government.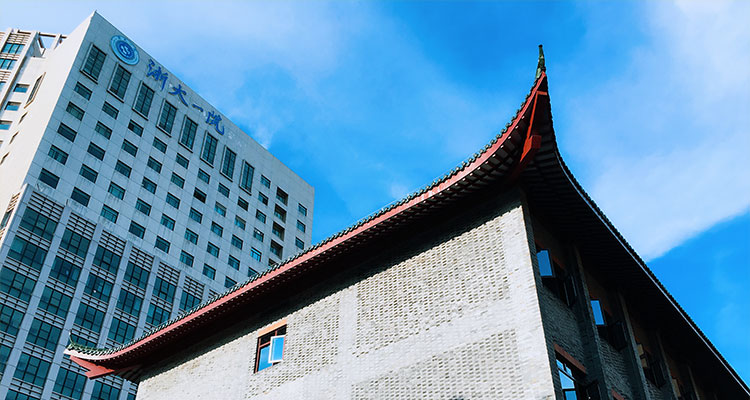 FAHZU has 7 campuses with more than 5,000 beds. The year 2022 has witnessed over 10.7 million outpatient and emergency visits. The Qingchun Campus, equipped with 1,900 beds, covers a site area of over 12.5 acres and a floor area of 1.9 million ft2. In addition, FAHZU Headquarters Phase I opened in 2020, covering a site area of 33.3 acres and a floor area of 3.2 million ft2 with 1,200 beds while Phase Ⅱ project will cover a site area of 27 acres and a floor area of 5.7 million ft2 with 2,000 beds. The Headquarters serves as a significant platform of National Medical Center and National-level Reginal Medical Center. Zhijiang Campus was open in 2019, covering a site area of nearly 25 acres and a floor area of about 1.9 million ft2 with 1,000 beds. Qiantang Campus, also known as a provincial public health medical center, is in construction now. It will cover a site area of 75 acres and a floor area of 300 thousand square meters with about 2000 beds.
FAHZU boasts strong overall strength, exceptional medical quality and superior specialties both at home and abroad. In the "Science and Technology Evaluation Metrics of Hospitals in China" released by the Chinese Academy of Medical Sciences, FAHZU ranked 5th and 8 specialties got into top 10. Infectious Diseases and Gastroenterology has won the national best. In the latest "Performance Review of Public Hospitals in China" released by the State Council, FAHZU ranked 5th with A++ and entered national top 1%.
As a large-size general hospital, FAHZU currently has about 10,000 employees, among which 443 have senior titles and 675 have associate senior titles. There is a galaxy of talents, namely, 2 academicians of the Chinese Academy of Engineering, 3 National Distinguished Young Scholars, 4 Changjiang Distinguished Professors, 6 Leading Experts for S&T Innovation in the National "Ten Thousand Talents Program", 4 National-level Young and Middle-aged Experts with Outstanding Contributions, 3 Highest-level Experts in Zhejiang Province, and 20 "Qiushi" Distinguished Scholars of Zhejiang University. FAHZU also has 1 Base for Innovative Talent Development entitled by the Ministry of Science and Technology.
FAHZU has been devoted to scientific research including National Science and Technology Major Projects, National Key R&D Programs and National Natural Science Foundation Programs (NSCF), of which 45 have won over 10 million RMB grants. Many landmark projects including Major Programs and Innovation Team Programs of Natural Science Foundation of China have gained fruitful results. In 2022, 159 programs are funded by NSCF and the number of research programs and amount of funding broke the record. The annual funding for scientific research has reached 100 million RMB for 14 consecutive years, in which 9 years over 200 million RMB. In 2021, it exceeds 300 million RMB. FAHZU has won the "Zhejiang University Special Contribution to Scientific Research Award" for many times.
In recognition of its remarkable achievements, a great many awards have been granted to FAHZU, including 1 Grand Prize (the only one awarded to educational and health institutions), 2 First Prizes and 9 Second Prizes for National Scientific and Technological Progress, and over 30 S&T progress awards granted by the Ministry of Education, Chinese Medical Association, Zhejiang Province, etc. Its medical staff have published a number of papers on prestigious journals as Nature, NEJM and Lancet as first or corresponding authors. The total number of papers indexed by SCI, EI and ISTP has increased year by year. As a result, FAHZU has been top-ranked in the "National Outstanding S&T Papers Ranking" among Medical Institutions. More than 400 patents have been granted and nearly 200 monographs have been published.
FAHZU offers undergraduate, postgraduate, standardized residency training, specialists training and continuing medical education and other programs. It is among the first National Demonstration Centers for Clinical Teaching and Training, the National Demonstration Base for Standardized Residency Training, the founding member of "China Elite Teaching Hospital Alliance" and Vice-chair of Clinical Practice Education Union of Hospitals Affiliated to Universities. It has 1 National Teaching Team, 2 National-level High-quality Sharing Courses, 1 National-level Outstanding Open Video Course and 34 National Official Textbooks with FAHZUers as editors or associate editors. Master's degrees and doctorates in 6 specialties and 30 subspecialties are awarded with the support of 142doctoral advisors and 404 Master's supervisors. It also has 23 National Standardized Residency Training Bases (including 6 Key Specialty Base), 8 National Standardized Specialist Training Pilot Bases, 2 National Continuing Education Bases, and 2 senior doctor training programs jointly accredited by the Royal College of Surgeons of Edinburgh and the College of Surgeons of Hong Kong.
FAHZU has been extensively engaged into overseas exchanges and collaboration. It has established cooperative relationships at different levels with over 30 top universities and medical institutions across the world including Stanford University, Johns Hopkins Hospital, University of Pittsburgh, Charite Medical Center and Kyoto University. Its National Level International S&T Cooperation Base focusing on liver diseases and liver transplantation is the earliest in the field of medicine in Zhejiang Province. At the same time, in response to the "Belt and Road Initiative", FAHZU joined China-CEEC Hospital Cooperation Alliance and has vigorously advanced its relationship with Central and Eastern Europe countries such as Hungary. Productive achievements have been made in medical diplomacy by exporting cutting-edge technologies and outstanding talents to Indonesia, Malaysia and other Southeast Asian countries.
FAHZU actively explores the construction of Medical Consortium. Guided by national healthcare reform policy, it has established medical collaborative partnerships with 109 municipal and county-level hospitals both within and out of Zhejiang Province, among which 13 hospitals are operated by FAHZU. With the help of modern information and Internet technologies, it has built a "medical service network covering 4 levels from provinces, counties (districts), townships to villages". Remote networking has been set up with 206 hospitals and 349 community health service centers (township health centers) in Zhejiang and other provinces. Academician's Workstations have been established, Specialty Team Workstation is under preparation and Cross-regional Specialty Alliance has been initiated, all which extend the scope of medical service provided by FAHZU and thus fully realize the sharing of high-quality medical resources and forming of a medical consortium with FAHZU characteristics. In addition, FAHZU has taken the lead in information construction by actively exploring new service models of "Internet+ Healthcare". It has launched "FAHZU Internet+ Hospital", the first among its counterparts in China, which focuses on the re-examination of patients with chronic and common diseases. A wide range of medical services have been carried out including online consultation, check-up appointment, bed reservation, online payment and home delivery of drugs, realizing the dream of seeing doctor at home and making people more satisfactory with the healthcare services offered.