After being diagnosed with diffuse large B-cell lymphoma more than 4 years ago, Mr. SUN has gone through a long and painful treatment including 14 times of chemotherapy with different regimens, 20 times of radiotherapy and total gastrectomy. The efficacy however was far from satisfying with the tumor recurred repeatedly.
"Fate has already sentenced me to death, and I failed to see any hope."
In May 2020, Mr. SUN turned to the First Affiliated Hospital, Zhejiang University School of Medicine (FAHZU). After preliminary assessment, he received the new PD1-19bbz CAR-T cell therapy. As a result, Mr. SUN has lived disease-free for more than 2 years.
"Thanks to the new CAR-T therapy for giving me a second life!"
This is the best clinical result so far in the global CAR-T cell therapy for refractory and relapsed lymphoma with high remission rate and low toxicity, marking that Chinese scientists are in an internationally leading position in the field of CAR-T cell research, development and clinical translation.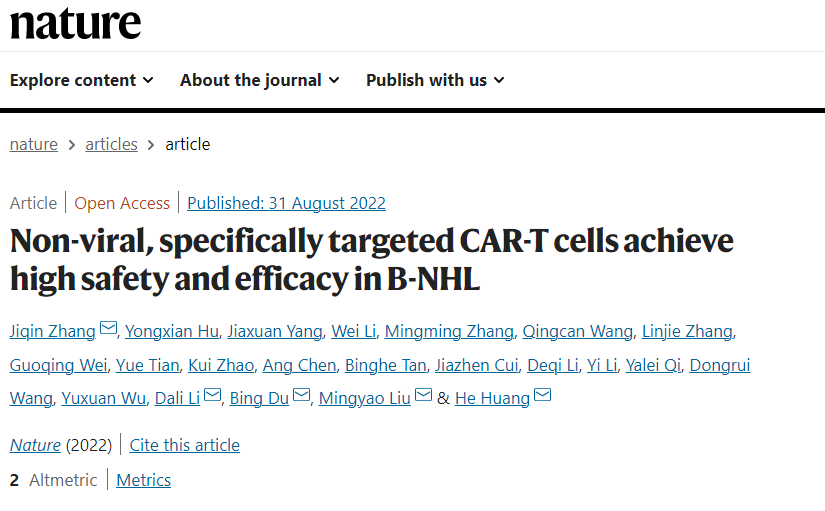 On Aug. 31st 2022, Prof. HUANG He's team from FAHZU has published a research article titled "Non-viral, specifically targeted CAR-T cells achieve high safety and efficacy in B-NHL" online in Nature. Prof. HUANG He is the corresponding author, and Prof. LIU Mingyao from East China Normal University is the co-corresponding author. Dr. ZHANG Jiqin from LIU's team is the first author and Dr. HU Yongxian from FAHZU is the co-first author.
The two teams worked together to use the CRISPR/Cas9, gene editing technology that won the Nobel Prize in 2020, to precisely knock out the PD1 locus in T lymphocytes, and insert an anti-CD19 CAR cassette into the AAVS1 safe-harbour locus, developing an innovative type of anti-CD19 CAR-T cell with PD1 integration(PD1-19bbz).
In 2020, when Mr. SUN first came to FAHZU, there were multiple lymphoma lesions in the abdominal cavity, with lymphoma having invaded the intestinal wall. The research of Prof. HUANG's team shows that lymphoma invading the intestinal wall is a relative contraindication to CAR-T therapy, and intestinal perforation is prone to occur when receiving CAR-T cell therapy. Therefore, Mr. SUN was no longer suitable for traditional CAR-T cell therapy. The new PD1-19bbz CAR-T cells have a low risk of cytokine storms and other complications, "which may give the patient a chance to survive."
After completing the approval of various clinical studies, Prof. HUANG's team infused the patient with PD1-19bbz CAR-T cells on May 26, 2020. Later on June 9, 14 days after the reinfusion, all the indicators were normal. The patient was discharged from the hospital after assessment. PET-CT evaluation was performed 1 month after the reinfusion. The results showed that the large mass tumor that invaded the intestinal mucosa in the original abdominal cavity had completely disappeared. And Mr. SUN has been seen disease-free for more than 2 years.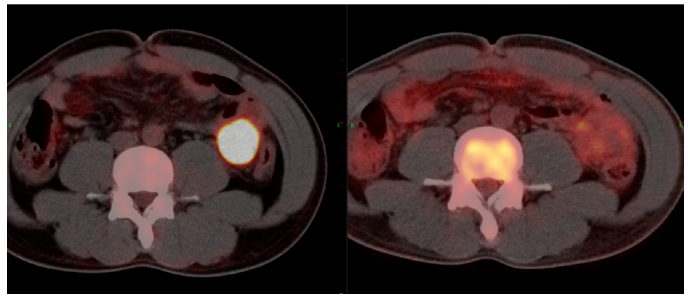 Left: before CAR-T therapy; Right: 1 month after CAR-T therapy
In the latest study, mild cytokine release syndrome (CRS) was observed in some patients, while immune effector cell-associated neurotoxicity syndrome (ICANS) did not occur. For all patients experienced transient and reversible haematological toxicity events mainly related to the chemotherapy pretreatment, no other high-grade (≥3) adverse events (AEs) were found. And these data demonstrate that non-viral, PD1-integrated CAR-T cells have high safety and efficacy for patients with r/r B-NHL.
Fig. Non-viral, PD1-integrated CAR-T cells potently eliminate tumour cells in patients with r/r B-NHL without serious toxicity
A recent follow-up has found Mr. Sun up to standard in all examination items. His weight has increased a lot, and his face looks more rosy. In the summer of 2022, Mr. SUN shares a great news with the medical staff that his son has been admitted to the Academy of Arts & Design of Tsinghua University, " After the cell therapy, my body feel back to normal at once. My relatives and friends also find out that I had a miraculous recovery. Now I play badminton in my spare time, and I have completely come back to my normal life before the disease. Thanks to the new CAR -T cell therapy I'm now able to see my son go to university. Thanks to the team of Prof. HUANG He for their meticulous treatment, which helped me overcome the disease and feel alive again."