Aspirated cement is a rare and serious safety incident that can have severe consequences. Cement aspiration can lead to the solidification of the airway, compromising lung function and ventilation, and the effective treatment of critically ill patients remains uncertain.
In September 2022, Dr. CAI Hongliu's team from the Department of Critical Care Medicine at the First Affiliated Hospital, Zhejiang University School of Medicine (FAHZU) published a paper titled "Aspiration of Cement Slurry" in Intensive Care Medicine (IF=41.787). The article provides detailed insights into how the team saved a 46-year-old male patient who had fallen into cement slurry through rock-solid airway management and has been internationally praised by many peers.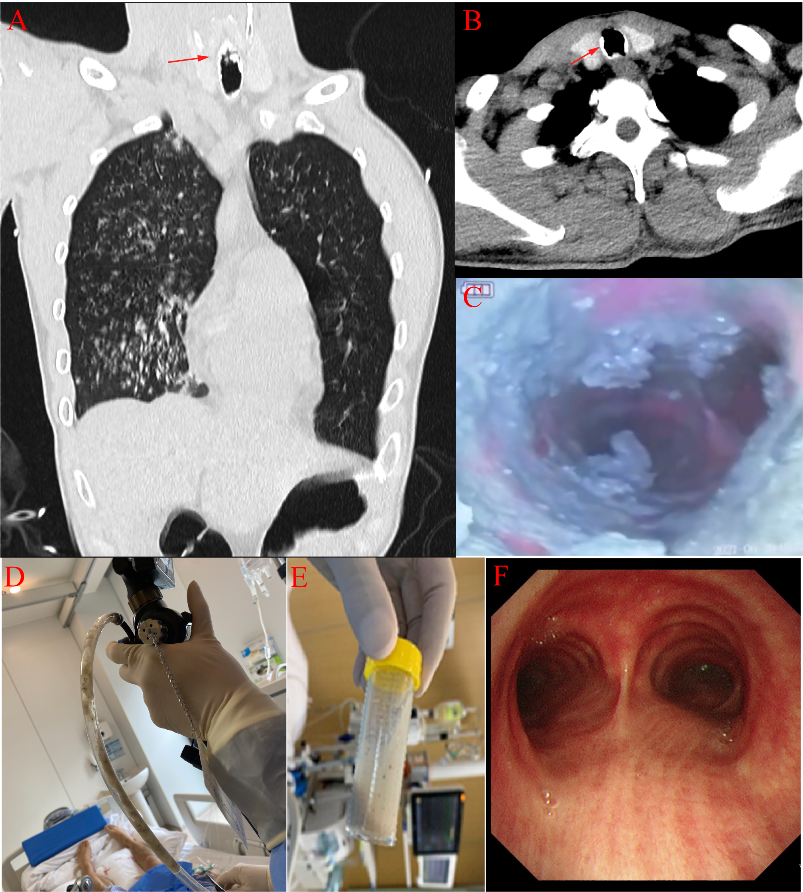 The patient in question was a 46-year-old male who was admitted to the intensive care unit after falling into cement slurry. Lung computed tomography showed a high-density shadow with an irregular surface surrounding the inner side of the trachea wall and extensive lesions in the alveoli (Fig. 1A, B). Subsequent fiberoptic bronchoscopy confirmed that the high-density shadow attached to the tracheal wall was solidified cement.

The cements were removed using tracheoscopic biopsy forceps, and sputum suction and bronchoalveolar lavage were performed. The sputum (Fig. 1D, E) and bronchoalveolar lavage fluid mixed with black particles confirmed the presence of cement particles in the alveoli. Bronchoalveolar lavages were performed once a day for a month to remove any cement particles aspirated into the lungs. The patient was eventually discharged from the hospital, and a fiberoptic bronchoscopy at the four-month follow-up showed that the mucosa was almost normal (Fig. 1F).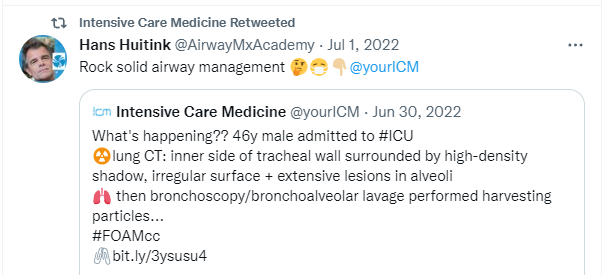 Overall, this case highlights effective treatments for aspiration cement patients. The article also showcases the high level of care provided by the Department of Critical Care Medicine at FAHZU, which has been recognized by experts from various countries and shared on Twitter by the journal.
More information: Dr. HUANG Lingtong is the corresponding author and Dr. ZHU Yue is the first author. This article was supported by National Key Research and Development Program 2020YFE0204300.
Source: the First Affiliated Hospital, Zhejiang University School of Medicine
Photo credit: Department of Critical Care Medicine of FAHZU