Multiple myeloma is a malignant disease characterized by the proliferation of clonal plasma cells in the bone marrow. While numerous advances in treatment, such as proteasome inhibitors, immunomodulatory drugs, and monoclonal antibodies, have significantly improved patient survival over the years, the disease remains incurable. Novel immunotherapies, particularly chimeric antigen receptor (CAR) T-cell therapy, show promise for treating relapsed or refractory multiple myeloma. B-cell maturation antigen (BCMA), which is widely and almost exclusively expressed on plasma cells and B cells, is a promising target for multiple myeloma drug therapy. However, low-to-negative BCMA-expressing myeloma cells can evade BCMA-targeted CAR T-cell therapy and lead to relapse, necessitating the identification of complementary new targets.
On January 31, 2023, Prof. HUANG He, president of the First Affiliated Hospital, Zhejiang University School of Medicine (FAHZU) published an article entitled GPRC5D CAR T cells (OriCAR-017) in patients with relapsed or refractory multiple myeloma (POLARIS): a first-in-human, single-centre, single-arm, phase 1 trial in the journal Lancet haematology. The study demonstrated the safety and preliminary efficacy of GPRC5D CAR T cells in patients with relapsed or refractory multiple myeloma, including those who relapsed after BCMA CAR-T cell therapy.
GPRC5D is a G protein-coupled receptor that is highly expressed in malignant plasma cells. GPRC5D expression does not depend on BCMA. Moreover, GPRC5D is minimally expressed in bone marrow samples of other hematological malignancies, such as acute leukemia and diffuse large B-cell lymphoma, making it a promising immunotherapy target for treating patients with multiple myeloma. Professor HUANG He's team developed CAR T cells targeting GPRC5D (OriCAR-017) and conducted a phase I clinical study in patients with relapsed or refractory multiple myeloma. Early data from this study was presented orally at the 2022 ASCO annual meeting and attracted considerable attention. A summary of the latest data from the study is now published in Lancet haematology, showing exciting clinical benefits.
The study included 10 patients with relapsed or refractory multiple myeloma, including five patients who had relapsed after BCMA CAR-T cell therapy. Six of the ten patients had a high-risk cytogenetic profile, four patients had extramedullary lesions, and eight patients had stage II or III disease. The median number of previous lines of therapy was 5.5. In terms of safety, the study had no dose-limiting toxicity and no serious adverse events were reported in any of the 3 dose groups. Common grade 3 or higher adverse events were hematological toxicities, but recovery was rapid. Low grade cytokine release syndrome occurred in all patients, including 9 cases of grade 1 and 1 case of grade 2, and no neurotoxicity was reported. The overall response rate in the 10 patients was 100%, with 6(60%) achieving strictly complete remission and 4(40%) achieving very good partial remission. These results demonstrate the excellent safety and preliminary efficacy of OriCAR-017 in relapsed or refractory multiple myeloma, as well as the great promise of future clinical applications.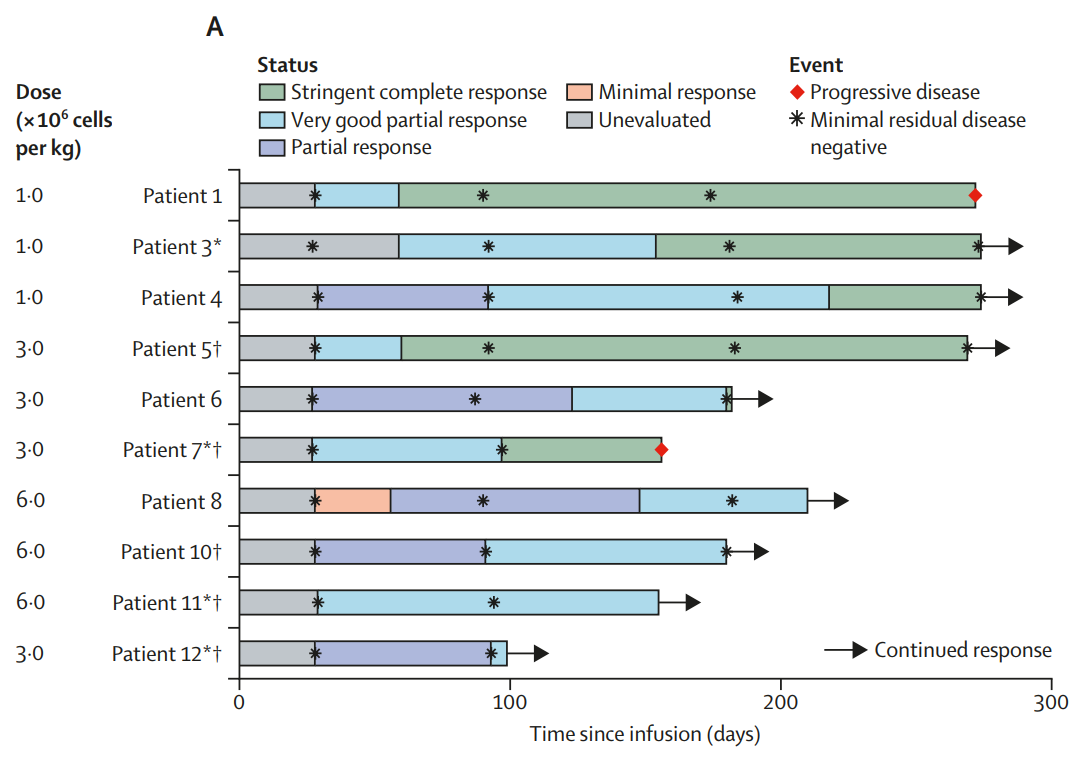 Figure: Clinical response to GPRC5D-targeted CAR T cells
"Data from our study showed that with extraordinary clinical efficacy, OriCAR-017 has been proved to be a novel, safe and effective therapy for patients with relapsed/refractory multiple myeloma, especially for those who experienced a relapse after receiving BCMA-targeted therapy." Prof. HUANG He comments that the study results highlight that GPRC5D as a new immunotherapeutic target for multiple myeloma, in addition to BCMA. Future research needs to explore the sequencing of BCMA and GPRC5D targets for immunotherapy and investigate whether the combination of these two targets will result in a stronger effect and induce more durable responses.
More information: Dr. ZHANG Mingming, WEI Guoqing and Ph.D. candidate ZHOU Linghui are the co-first authors of this article. Prof. HUANG He, Dr. HU Yongxian, Ph.D. HE Xiaowen, and Ph.D. KUANG Jiao are the co-corresponding authors of this article.