2023 marks the 10 year anniversary of the "Belt and Road" initiative. At the invitation of Ezgu Niyat Medical Center in Uzbekistan, Professor JIANG Tian'an, Director of the Ultrasound Department of the First Affiliated Hospital, Zhejiang University School of Medicine (FAHZU), paid a 5-day visit to Uzbekistan from April 16th to 20th with Chinese interventional medical expert delegation.
During the visit, Professor JIANG Tian'an had in-depth discussions with Kasimova Muniraxon Sadikjanovna, Vice Rector for Academic Affairs, Gofur-Ohunov Mirza Aliyarovich, Director of Oncology Department, surgeon Shermatov Ikboljon Inomovich, and renowned heart interventional physician Hikmat Hamidovich on the current status, progress, and application of microwave ablation technology, giving excellent speeches and sharing advanced medical technology and practical experience.
In order to provide local doctors with a deeper understanding of the clinical applications of microwave technology, Professor JIANG Tian'an also conducted a demonstration of thyroid ablation surgery at EZGU NIYAT Hospital, providing detailed explanations from various aspects such as preoperative preparation, instrument use, intraoperative precautions, and postoperative management. The local doctors and nurses who attended the demonstration expressed their gratitude for the valuable insights gained from the experience, which will undoubtedly help them provide better care to their patients.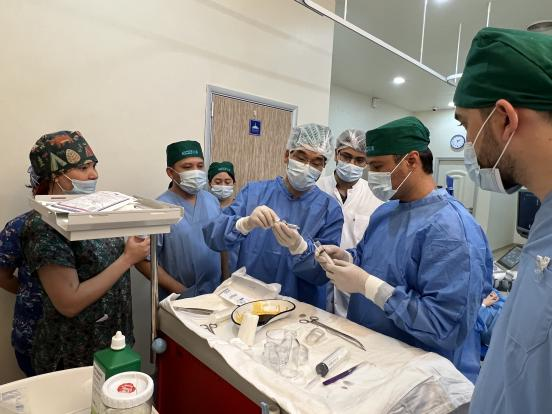 For several years, FAHZU has been actively promoting global exchange and cooperation, establishing partnerships with over 40 renowned universities and medical institutions worldwide. Proactively responding to the national "Belt and Road" initiative, and has become Member Unit of the Executive Committee of China-CEEC Hospital Cooperation Alliance, Member Unit of the China-ASEAN Hospital Cooperation Alliance, Member Unit of the Shanghai Cooperation Organization Hospital Cooperation Alliance, Vice Governing Unit of the B&R Health Professionals Development Alliance, and Vice Chairman Unit of its Minimally Invasive Surgery Technology Development Branch. Moreover, it has also been approved to build B&R Joint Laboratory by the Ministry of Science and Technology of China, and Zhejiang Province respectively, and awarded Provincial Outstanding Group of B&R Development.
In 2018, FAHZU Ultrasound Department hosted the first phase of the "Belt and Road" International Training Course on Tumor Microwave Ablation, which attracted medical professionals from 11 countries along the "Belt and Road," such as India, Sri Lanka, Lebanon, Malaysia, Cambodia, etc. In 2019, FAHZU Ultrasound signed a cooperation agreement with Attikon General University Hospital of Athens in Greece, further elevating the international reputation.
The exchange activity in ultrasound medicine with Uzbekistan reveals FAHZU's emphasis on deepening cooperation and friendship with countries along the "Belt and Road". In the future, with unwavering commitment to building a community with a shared future for mankind, FAHZU will continue to strengthen the sharing of medical technologies along the "Belt and Road", promote diversified forms of medical cooperation, and provide exceptional medical care to patients all around the world.