On August 9th, the delegation from Gadjah Mada University (UGM) in Indonesia visited the First Affiliated Hospital, Zhejiang University School of Medicine (FAHZU). Led by Dr. Lina Choridah, Vice Dean of the Faculty of Medicine, Public Health, and Nursing at Gadjah Mada University (FKKMK UGM), the delegation received a warm welcome from FAHZU President HUANG He, Vice Presidents ZENG Min and YU Zhaohui, and Assistant to the President WANG Huafen.
Gadjah Mada University, founded in 1949, is renowned as one of Indonesia's largest and most prestigious higher education institutions. FKKMK UGM, one of the oldest medical schools in Indonesia, offers 32 disciplines and has five affiliated hospitals.
President Huang He highlighted the history of friendly exchanges between FAHZU and UGM, emphasizing the cooperation that began in 2019 with the signing of a tripartite memorandum of understanding involving Dr. Sardjito Hospital. In September 2022, the two institutions jointly organized an online academic seminar focusing on Infectious Diseases and Traditional Medicine.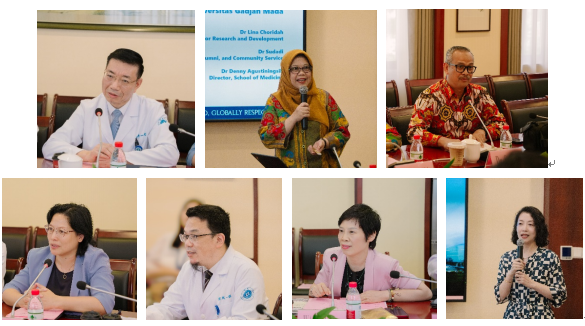 Dr. Lina Choridah and Dr. Sudadi, Vice Deans of FKKMK UGM, expressed their gratitude for the warm reception and provided detailed introductions to various international cooperation projects and exchange programs at UGM.
The discussions between the two institutions covered a wide range of disciplines, including joint research in areas such as organ transplantation, hematology, infectious diseases, digestive diseases, nursing, radiology and anesthesiology. They also explored collaborations in student and resident training, as well as the exchange of expert lectures.
During their visit, the delegation also toured various departments and facilities at FAHZU. They were impressed by the hospital's modern operation management, multidisciplinary strengths, and state-of-the-art equipment.

The visit by the delegation from UGM marks a significant milestone in the cooperation between the two institutions. It sets the stage for further strengthening of collaboration and friendship, as well as the enhancement of joint training programs and discipline development. Both sides are committed to expediting the implementation of substantive cooperation results, with the ultimate goal of improving the health and well-being of people in both countries.