October 24th has witnessed The First FAHZU-Stanford Joint Web Conference on Cardiovascular Diseases, co-organized by FAHZU Cardiology Department and Stanford Health Care. The webinar was chaired by Professor GUO Xiaogang, Director of FAHZU Cardiology, and Professor Alan Yeung, Senior Medical Director of International Medical Service, Stanford Health Care.
Both sides probed into how to carry out meaningful clinical research in combination with practical cases of new cardiovascular interventional techniques, and reached a consensus on further collaboration in future.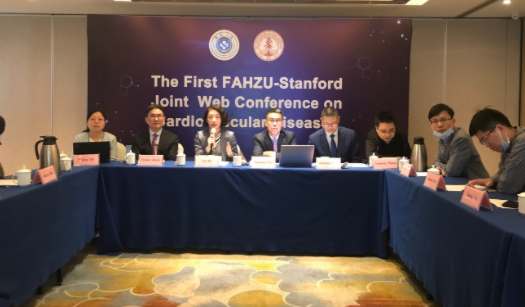 Opening speeches were given by Ms. HU Xin, Deputy Director of International Affairs Department and Ms. XIAO Xiao from International Medical Service Department of Stanford Health Care. Ms. HU remarked that although the meeting went online due to COVID-19, the longing for collaboration between both sides was not lessened at all. FAHZU shares a long-standing relationship with Stanford Health Care especially in the field of cardiovascular diseases. Prof. Alan Yeung is a visiting professor of Zhejiang University and has paid several visits to FAHZU before. Meantime, more than 20 medical workers from FAHZU including Prof. GUO went to Stanford for exchange and study.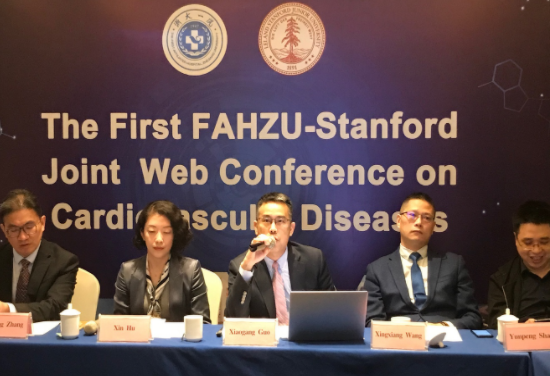 Prof. GUO wherafter made an all-round introduction on FAHZU Cardiology Department and its cutting-edge cutting-edge medical advances and pioneering research, followed by a splendid speech by Prof. Alan Yeung on the innovative development of cardiovascular interventions.
Both sides conducted a heated discussion on how to carry out clinical research, the trending of new cardiovascular technology and the future collaboration between FAHZU and Stanford. Porf. Yeung vividly illuminated how to obtain innovative research methods and how to improve patient follow-up, and stressed that there is no shortcut in clinical research, thus it is necessary to clearly understand the strengths of their own hospital, establish a database for research based on the urgent problems of patients in this area, and train excellent researchers.
At the end of the meeting, Prof. Yeung expressed his hope to continue the collaboration with FAHZU Cardiology and he welcomed young doctors from FAHZU to pay visits to Stanford Health Care. At the same time, he congratulated the opening of FAHZU headquarters and expected next visit to FAHZU in near future.