"Congratulations on your wonderful program. I think you are at the knife's edge of pancreatic surgery. I'm really proud to be your friend and colleague," Prof. Richard D. Schulick from CU Medicine spoke highly of Prof. LIANG Tingbo's team at FAHZU.

On the morning of May 12, Prof. LIANG Tingbo, Chairman of the First Affiliated Hospital, Zhejiang University School of Medicine (FAHZU), and Prof. Richard D. Schulick, Chair of Surgery, Director of the University of Colorado Cancer Center, the University of Colorado School of Medicine (CU Medicine), had a virtual meeting on pancreatic cancer and signed a Memorandum of Understanding for future partnership, marking the beginning of official cooperation between the two institutions. Also present at the MOU signing ceremony was Prof. ZHENG Min, Vice President of FAHZU, the HPB team at FAHZU, and Prof. Marco Del Chiaro, Clinical Director of Hepato-Pancreato-Biliary Program, and Division Chief of Surgical Oncology at CU Medicine.
Founded in 1876, the University of Colorado is a prestigious public university in America. CU Medicine, its medical school, is also a leading research institution in the US, consistently ranking among the top in the nation. Organ transplantation, in particular, is a flagship specialty. Prof. Thomas Starzl, known as "the father of modern transplantation", performed the first human liver transplants in 1967 at the University of Colorado Health Sciences Center.
The symposium began with the opening speech addressed by Prof. LIANG. He talked about the previous cooperation between the two centers. Prof. LIANG further pointed out that as one of the largest organ transplantation providers in China offering all types of transplants, FAHZU has been engaged in international cooperation and made breakthrough achievements in many specialties in cooperation with a number of world's leading institutions. Back in 2014, Prof. LIANG's team set up a partnership with Prof. Schulick's team through mutual visits, joint residency and fellowship training, etc. In addition, Prof. LIANG was appointed the Adjacent Associate Professor of CU Medicine.
Prof. LIANG and Prof. Schulick signed the MOU and agreed to further their collaboration in clinical care, scientific research, personnel exchange, and talent development.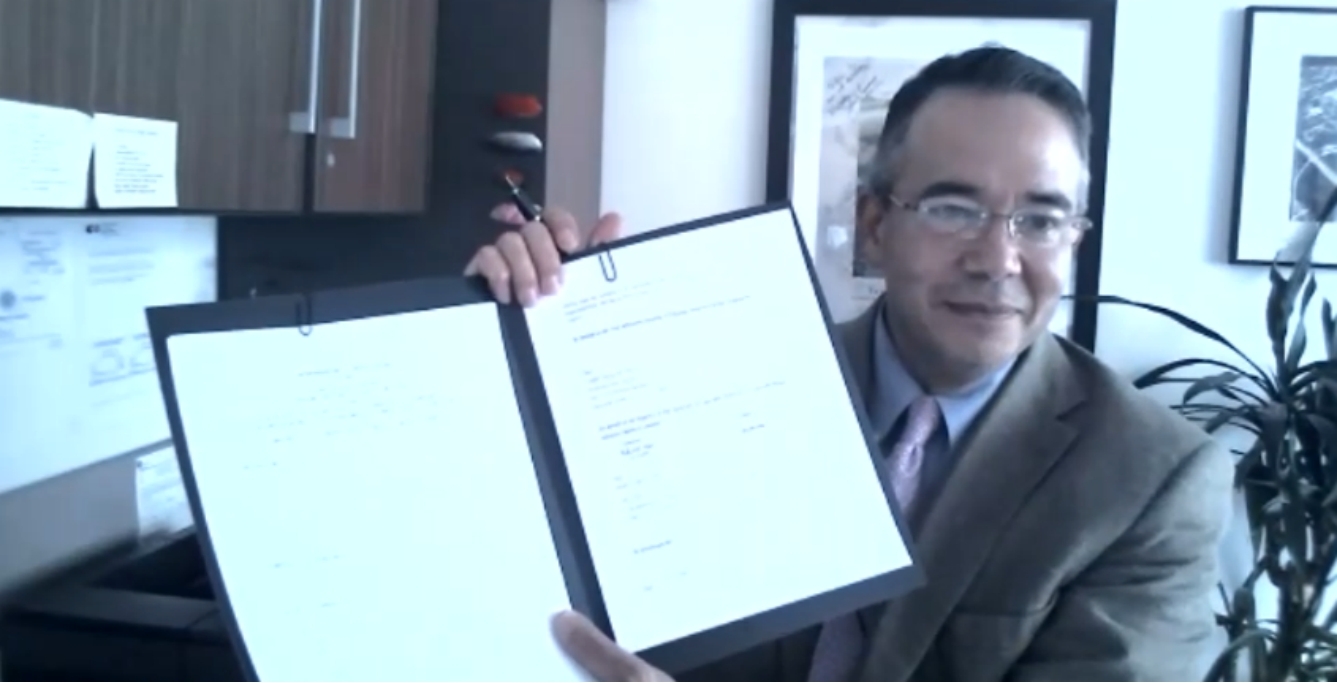 Later, speakers from both sides shared their presentations. Prof. LIANG first gave a lecture titled "radical resection combined with intestinal autotransplantation for pancreatic cancer". In recent years, the incidence rate and mortality rate of pancreatic cancer have been on the rise, but the diagnosis and treatment of pancreatic cancer have remained a major challenge in the field of medicine. Most patients are in the disease progression stage on their first visits to the doctor as the tumor has usually invaded neighboring important vessels or distant metastasis has occurred, greatly increasing the difficulty of surgery. The MDT team at FAHZU specialized in pancreatic cancer pioneered radical resection combined with intestinal autotransplantation for pancreatic cancer, expanding the surgical indications for patients with advanced-stage cancer and allowing more patients to have the opportunity for radical resection. Since 2018, Prof. LIANG's team has successfully performed dozens of operations and formed a holistic approach to pancreatic cancer from pre-operative assessment, surgical strategy to perioperative management.
Prof. Schulick shared his view on the "modern results of resection of pancreatic adenocarcinoma" by talking about the latest development in the diagnosis and treatment of pancreatic cancer in terms of earlier detection, liquid biopsy, systemic therapy, clinical trial, laparoscopic surgery, etc. Prof. Chiaro gave a keynote speech on the "approach to vascular resection with adenocarcinoma of the pancreas". He elaborated on the surgical indications, strategies, and treatment outcomes of pancreatic cancer combined with vascular invasion.
Both sides joined heated discussions on the latest development and several cases of pancreatic cancer and future cooperation mechanism. Prof. Schulick congratulated FAHZU on the achievements made and said he looked forward to the future partnership.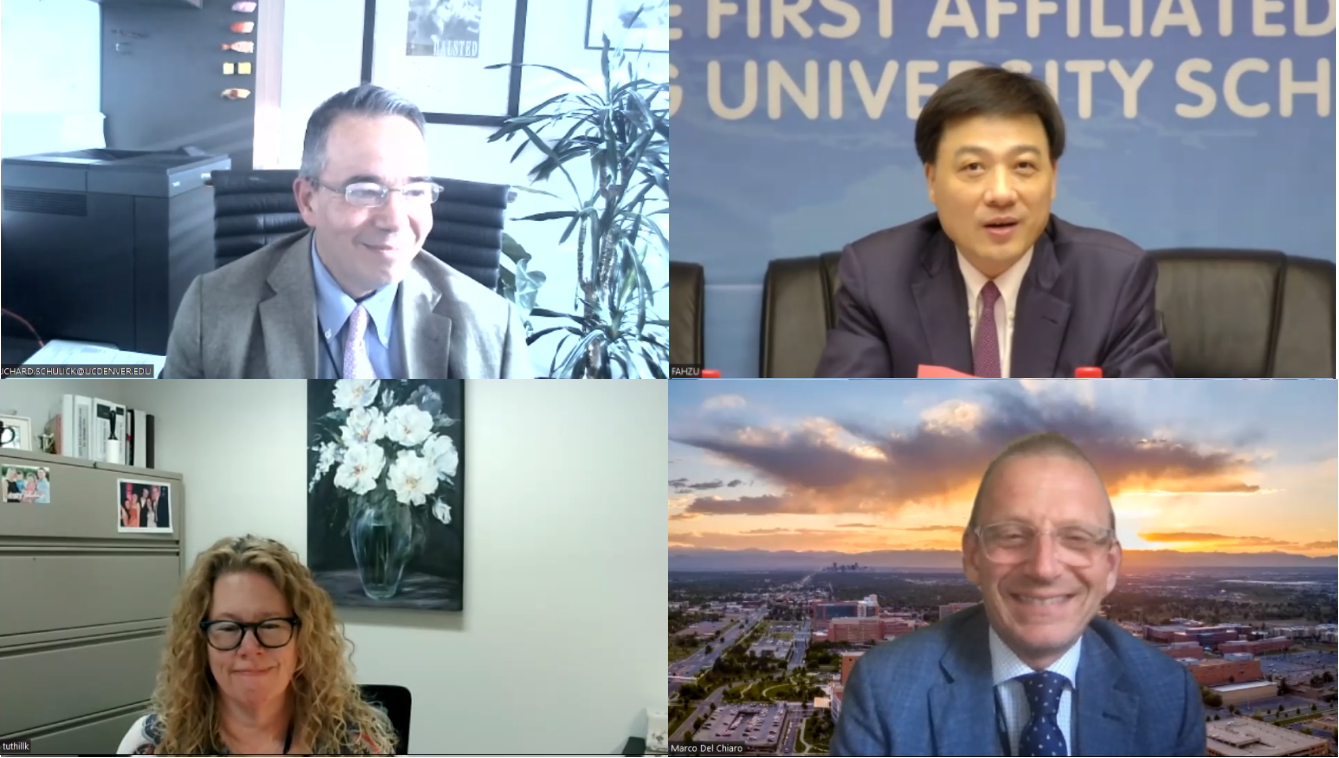 On the 75th anniversary of the founding of FAHZU, the HPB symposium marks another measure to deepen international cooperation and build a high-quality National Medical Center while opening a new chapter in the cooperation between FAHZU and CU Medicine. In the future, both institutions will make every effort to further their exchanges to produce better outcomes for people all over the world.